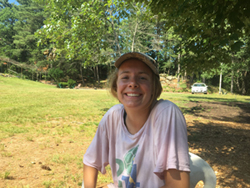 My name is Ashton Barkey and in the summer of 2018 I had the great opportunity of being a student at The Garden School. As a student at The Garden School, I got to help out with chores on the property including (but not limited to): planting, watering, pruning, harvesting, and helping out Wendy Murray with The Garden School Farm Stand. The Garden School Farm Stand is a place where locals and travelers alike can come to get organic produce grown with love right in their neighborhood! Wendy is the main keeper of the farm stand, but I am really glad I got to help her out. We harvested produce and flowers together. Wendy makes fresh bouquets with the flowers and puts them out for people to grab on their way home from work or wherever they might be going. After we harvest the produce, we wash it and put it out on the table. The Farm Stand uses an honor system for pay, so people can grab produce and leave a couple bucks in the cash box. I loved stocking the table up and looking at our final product… usually with an array of tomatoes, squash, peppers, eggplants, and more! We advertise the produce available on a sign that sits right off of Foster Street. I loved when Wendy and I were prepping the table and we got to interact with locals who stopped by. People were excited to have good food grown right in their neighbors yard! It was a really special experience for me to see the process of getting food from the field to the stand.  
~ Ashton Barkey, Student Intern, Summer 2018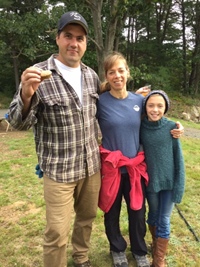 The addition of a local farm stand not only offers us fresh local food but creates a sense of community and cooperation and trust. This is rare and I treasure it. It's a grounding experience for everyone to remember that we eat from the earth, it takes work to provide for ourselves, and with the help of others we can live in a community that is more aware of their place in the world and their opportunity to give back to each other.
~ Heidi Gorton, Educator and Beverly resident
Your web site and your photography of the gardens and produce all demonstrates the high standards of excellence that you have strived for.
~ Susan Egan, Beverly resident
The roadside farm stand at The Garden School is always the highlight of my commute be-ween Salem and South Hamilton. It's such a pleasure to stop by on my morning commute to pick up flowers for the office, and stopping by on the way home inspires me to prepare dinner with their beautiful seasonal produce. The addition of outlined parking spaces is helpful. The farm stand is a friendly, trustworthy neighbor on Foster Street.  
~ Tracy Pierce, Educational Technologist, Gordon-Conwell Theological Seminary
The Garden School farm stand has been a great addition to the community in Beverly. It is in a location where there is no other farm stand anywhere close to it, and the Zobas have done an amazing job stocking it with both their own produce (and flowers) from their garden and also adding fruits and vegetables from other local gardens to supplement what they have from their own. It's actually pretty amazing what they have been able to offer all summer and fall, given that this is really the first full year their garden has been planted! Their produce is fresh, healthy, beautiful and so nicely presented. And it is so reasonably priced! The people are great, access is easy, and it is making a big contribution to the community already. Thanks to this farm stand, it is already becoming easier and less expensive to eat healthy, nutritious meals than it was before they opened.

~ Betsy Crowe, Beverly resident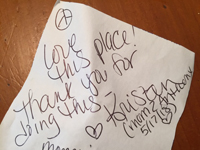 Easily the best produce anywhere. It has been a great season with an excellent selection of amazingly fresh produce. I'm spoiled by the high quality. The "snapping -crunching" fresh- ness is amazing and appreciated. Thank you for a great summer. (Perhaps next year you will do an outdoor dinner featuring your specialities.)
~ Walter, Beverly resident
I've been stopping at your unattended produce stand on my weekly trips to the compost facility, and have really enjoyed being able to purchase the wide variety of fruits and vegetables that you offer. After hearing about the Garden School, and the work you plan to do at the old Camp Mitchman property, I thought of a number of ways that I think, and hope, the project will benefit area residents, and perhaps those farther afield. There are the obvious benefits of workshops on agriculture and also longer-term internships, which could help us re-build food independence, and build food security.  sincerely hope that you will be able to continue to offer your farm stand, and wish you the best as you continue your extensive renovation. / Your idea of providing a post-high school live/work experience also sounds valuable. It's great to see this property being activated in a new way.
~ Kevin Andrews, Beverly resident and principal at Johnson School, Nahant