It may take a little while to make, but it is always worth it! Really the extra time is mostly waiting for the tomatoes to drain and the onion to cool. There's not a lot of prep work, especially if you're not making homemade pie crust. Make sure those tomatoes get really cooked down before you pull it out of the oven.
This pie is a real treat.
Tomato Pie Serves 6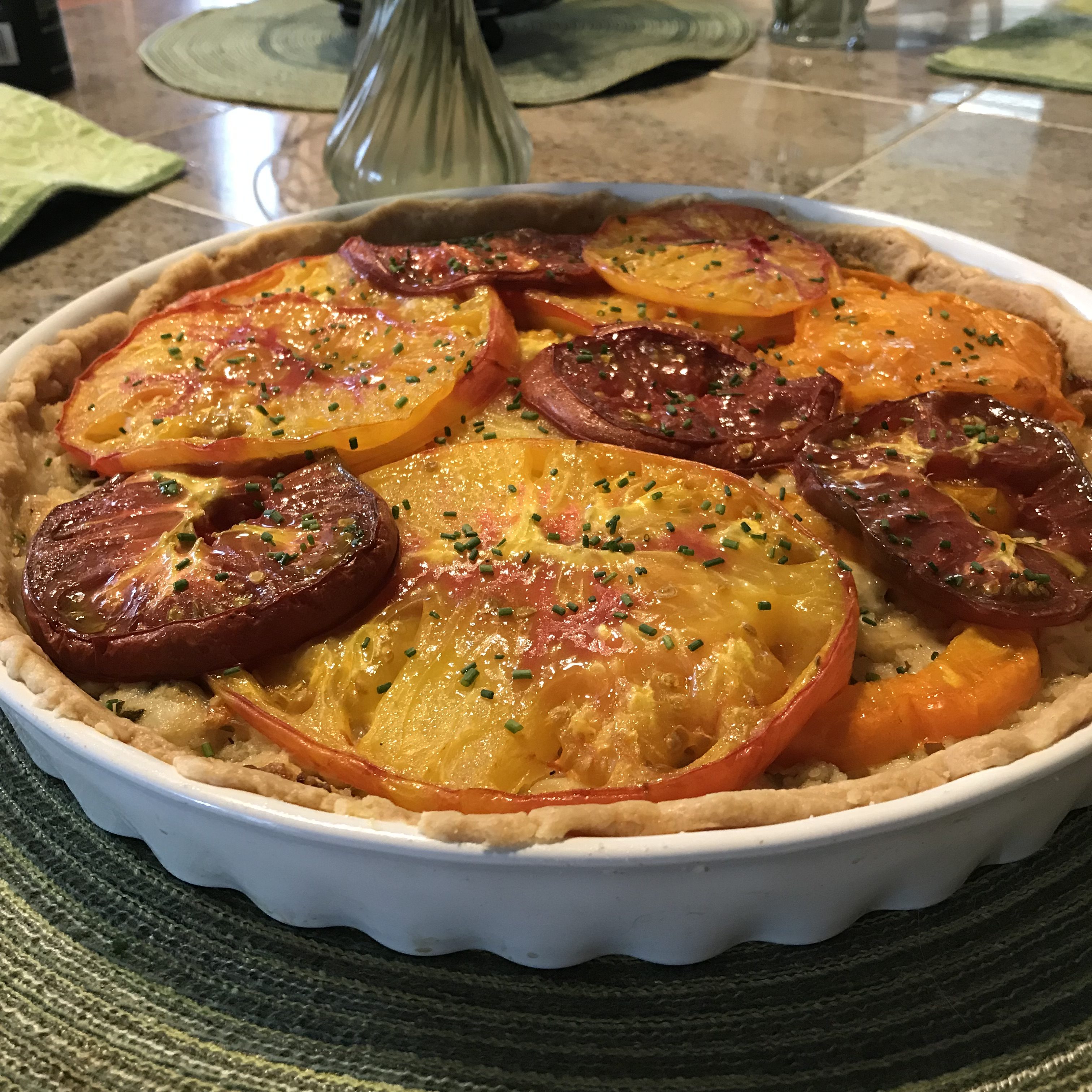 Ingredients
1 cooked 9 ½" pie shell (store bought or homemade)
2 tablespoons olive oil
1 large onion, thinly sliced
2 ¼ pounds tomatoes of mixed variety & color
¾ cup shredded manchego cheese (or substitute shredded Parmesan)
¾ cup shredded mozzarella cheese
¼ cup mayonnaise
3 tablespoons breadcrumbs
Salt and freshly ground black pepper
3 tablespoon chopped fresh Italian parsley leaves
3 tablespoon chopped fresh chives
1 teaspoon chopped fresh thyme leaves
Directions
Preheat oven to 375°F. Heat 1 tablespoon of olive oil in a large skillet over medium heat. Add the onion and cook, stirring, until golden, about 15 minutes. Allow to cool. Meanwhile, thinly slice the tomatoes, sprinkle with about 1 teaspoon of salt, and allow to drain in a colander, about 30 minutes. 

Make the filling: Combine the manchego, mozzarella, mayonnaise, breadcrumbs, 2 tablespoons each of the parsley and chives, thyme, ¼ teaspoon each salt and pepper, and the sauteed onion in a bowl. Spread mixture into the crust. Arrange the tomatoes on top. Drizzle with the remaining 1 tablespoon olive oil.

Bake until the tomatoes are browned, about 50 minutes (cover edges of crust with foil if necessary to prevent burning). Top with the remaining parsley and chives, and serve.